The traditional restaurant of Modena.
Every occasion we want to be remembered, that's why your search for the characteristic restaurant in Maranello where you can experience a unique moment has dominated your thoughts these days.
Looking for the ideal place for a romantic dinner with your partner, or a large outdoor space to celebrate with your friends, is not a trivial choice: that's why our fresh panoramic terrace overlooking the hills of Modena caters to your every need and will leave a pleasant memory in your guests.
La Cicala will charm you with its distinctive identity as a typical restaurant of Maranello, located in an ancient farmhouse, thanks to its dominant position on the green hills and the lights of the city of Modena and Maranello.
The privacy and romance of its evenings will intoxicate you with the typical aroma of preparations from our traditional Modenese cuisine and the uniqueness of our trademark gnocco strappato®.
The traditional restaurant of Modena is located 5 minutes from the world of the Prancing Horse & 13 km from Modena. Upon your arrival, you will find a large private parking area and we will welcome you with a charming aperitif on the panoramic terrace overlooking the lights of the city of Modena.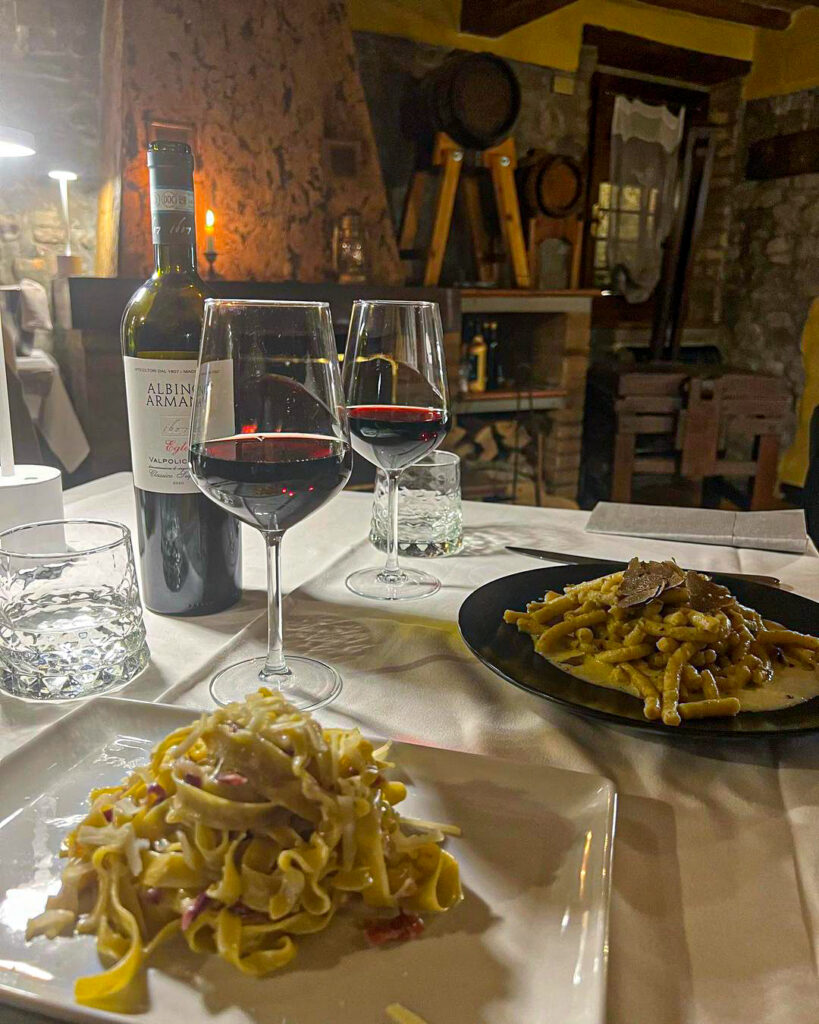 The homemade style of the Sfogline
The tradition of hand-cranked pasta in our cuisine originates from the flavors of the woods and the aromas of Modena's products such as Parmigiano Reggiano and Balsamic Vinegar.
The most credible words are those of customers who choose La Cicala to experience a moment of intimacy without sacrificing the quality of ingredients.
Michele Gelati
31/05/2023
Splendida terrazza all'aperto con vista fantastica. Ottimo gnocco di benvenuto. Cibo buono, e ben presentato. Personale gentile e disponibile. Occorre specificare meglio le modalità di poter scegliere specifici tavoli al momento della prenotazione
Emilian Constantin
29/05/2023
Johnny Stecchino
25/05/2023
Serata con amici al ristorante la Cicala ... Ben accolti ...Abbiamo mangiato bene e senza particolari ritardi ...gnocco fritto particolare ...Tigelle affettati e formaggi buoni . Ma se devo considerare il contesto generale lo consiglierei soprattutto per le coppie!! La vista panoramica sulla valle sottostante che si vede stando seduti fuori sull'estivo in questo periodo in fase di tramonto e Molto Molto Romantica ...Pace e serenita' la fanno da padroni . E un total Relax ti investe alla sola vista della valle .Buon servizio .Formale il Sig Cameriere .Gentile il personale o forse la titolare femminile che ci ha accolto .Prezzo giusto . Buon parcheggio .
Davide Vellani
21/05/2023
BRAGLIA DAVIDE
21/05/2023
Jessica Costantini
15/05/2023
Ristorante intimo e romantico. Staff super gentile, e cibo delizioso. Consigliatissimo.
Simonetta Pasquetto
13/05/2023
Cucina tradizionale & carne
Martedì – Domenica: 19:30 – 23:30
Sabato & Domenica: 12:30 – 15:30