The traditional restaurant of Modena.
Every occasion we want to be remembered, that's why your search for the characteristic restaurant in Maranello where you can experience a unique moment has dominated your thoughts these days.
Looking for the ideal place for a romantic dinner with your partner, or a large outdoor space to celebrate with your friends, is not a trivial choice: that's why our fresh panoramic terrace overlooking the hills of Modena caters to your every need and will leave a pleasant memory in your guests.
La Cicala will charm you with its distinctive identity as a typical restaurant of Maranello, located in an ancient farmhouse, thanks to its dominant position on the green hills and the lights of the city of Modena and Maranello.
The privacy and romance of its evenings will intoxicate you with the typical aroma of preparations from our traditional Modenese cuisine and the uniqueness of our trademark gnocco strappato®.
The traditional restaurant of Modena is located 5 minutes from the world of the Prancing Horse & 13 km from Modena. Upon your arrival, you will find a large private parking area and we will welcome you with a charming aperitif on the panoramic terrace overlooking the lights of the city of Modena.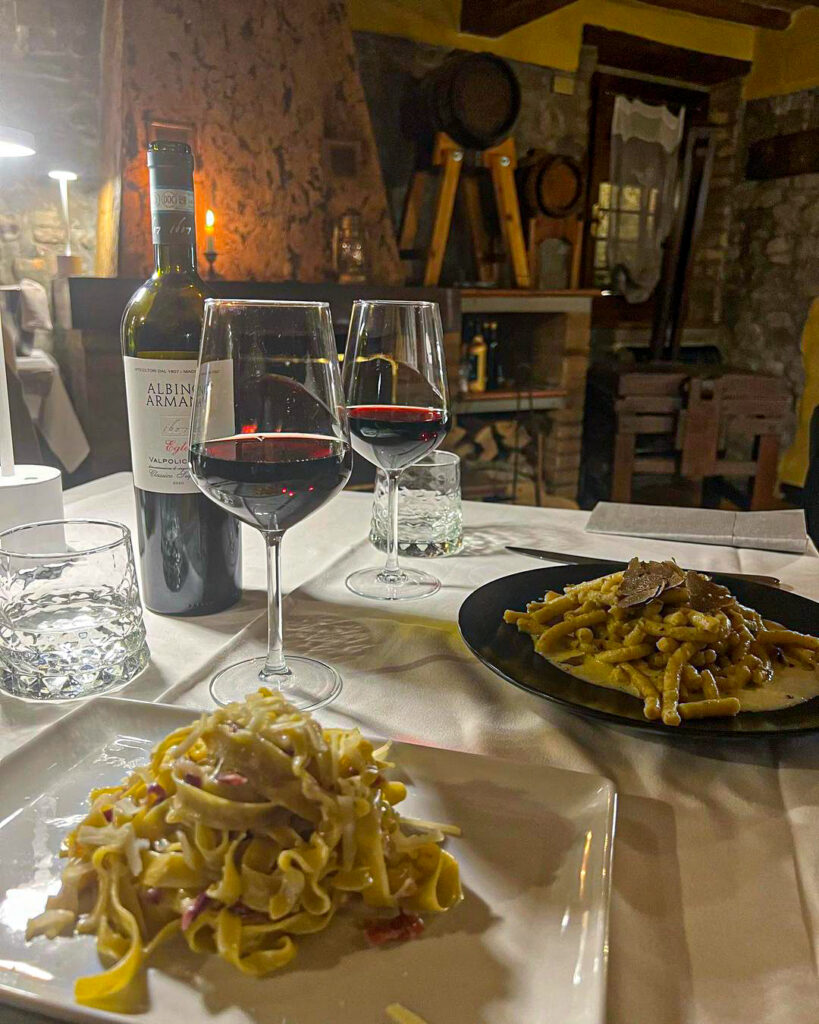 The homemade style of the Sfogline
The tradition of hand-cranked pasta in our cuisine originates from the flavors of the woods and the aromas of Modena's products such as Parmigiano Reggiano and Balsamic Vinegar.
The most credible words are those of customers who choose La Cicala to experience a moment of intimacy without sacrificing the quality of ingredients.
Rocco Pellegrino
28/09/2023
roberto papotti
16/09/2023
Bello cenare in terrazza, cibo ottimo personale gentile e disponibile.
Fantastic 👍🏻🍷🍷
Giorgia Albarani
05/09/2023
Un ottimo ristorante sulle colline modenesi con una splendida vista della città. Cibo tradizionale ma leggermente rivisitato di buona qualità, personale molto gentile. Porzioni abbondanti (consiglio lo gnocco strappato servito con un affettato buonissimo ed i passatelli su crema di parmigiano). Il mio preferito in zona
Fabrizio Bernabei
03/09/2023
Buon cibo in una location fresca e con una bellissima atmosfera serale
Daniela Mantovani
03/09/2023
Eugenio Davolio
03/09/2023
Un pranzo domenicale davvero piacevole in cui, nella spaziosa terrazza panoramica con vista mozzafiato fino alla città di Modena, abbiamo gustato sia alcuni primi diversi e tutti squisiti (tra cui si sono distinti i passatelli di Romagna con tartufo) e una sorprendente grigliata di carne, verdura e frutta, davvero ottima. Molto graditi anche i dessert, con una nota di merito per il sorbetto alla salvia. Molto buona infine la selezione dei vini, per tutti i gusti e tutte le tasche. Cortese, attento e rapido il servizio. Prezzi nella media.
Molto carino d'estate ottima vista dalla terrazza e si mangia bene da provare

Via Vandelli 708, Torre Maina (MO)
0536 943346
Assistenza online dal lunedì al venerdì 08:30 – 17:30
Martedì – Venerdì
19:00 – 23:30
Sabato – Domenica
12:00 – 15:30
19:00 – 23:30